WordPress is an amazing platform. At Uncle Jake Media, we sing its praises because there are so many options for themes, styles and functions that make every website unique.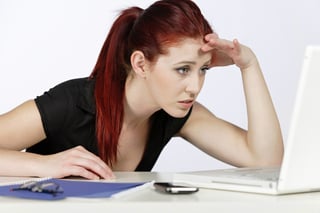 Although the platform is incredibly user-friendly, there are still plenty of mistakes that rookie WordPress users should avoid.
As experienced designers, we've heard a few horror stories from our clients. Here are a few tips to help save you from heart-dropping, gut-wrenching, panicked "uh-oh" moments on your WordPress website:
Know the Difference between .com and .org
Did you know there is a difference between wordpress.com and wordpress.org? Well, you do now! Wordpress.com is fantastic for true beginners, as WordPress handles hosting and offers plenty of themes. However, it can also be a bit limiting. If you buy a theme from third-party websites like Theme Forest, you wouldn't be able to add it to the standard WordPress offerings.
Also, if your designer or developer recommends specific plug-ins, many are not available in the .com site. In that case, WordPress.org may be a better option if you want to customize parts and aren't afraid to be a bit more hands-on in building the site. Study the differences between the two options before deciding what's best for you.
We host websites for most of our clients, so if you'd like to opt for the .org option but don't want to handle the nitty gritty of everyday web hosting and maintenance, we can take that off your hands. As professionals, we know exactly how to handle your website in an environment that allows for virtually unlimited plugins and customizations with no extra hassle for you!
Remember to Update
Although we already have an entire post dedicated to the importance of updating your website, it's worth repeating. Not only should you update your content on the front-end, such as wording and adding blog posts, it's also important to occasionally update the back-end as well. WordPress is constantly updating their themes and plug-ins, so every now and then you'll want to update to the latest versions. If you let them get too outdated, then you might have readability or functional issues later on.
Consistent and controlled updates are so important, most clients ask us to handle their maintenance plans to keep the site ship-shape. When deciding whether or not to opt for the ongoing maintenance plan, make sure you know all that it entails and how much time and effort a developer can save you.
Save Your CSS
Often you'll use an established theme, which is a skeleton template. This theme provides the backbone of your entire site, and your developer will help you add custom HTML or CSS code to tweak the design and make your site your own. Later on down the line, if you decide to change the theme, make sure to save the CSS code beforehand! While the content of a page is rarely lost, custom code will be deleted when you change a theme.
Make sure to copy and paste the CSS to a safe space before changing your theme. That way if you decide to go back to the old theme or want to make coding changes in your new theme, all the developer's original coding work won't be lost.
Want to avoid your own coding horror stories? Contact us to talk about your website needs and how to get started with your own WordPress site.