Hiring a web designer can be an overwhelming process, and knowing the right questions to ask will guide you to the perfect design fit.
As we've said before (and will probably say again), you'll want to think twice before asking a friend or relative to design your website. Instead, shop around and hire a professional to develop your page.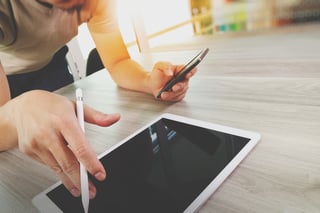 As a smart businessperson/entrepreneur/freelancer, you already know that your website is an investment for lead generation. But there are so many people out there who claim that they're the best. How can you discern between the excellent designers and the not-so-great ones? Here are a few questions you should ask when doing your due diligence to find the perfect fit:
Can I see your portfolio?
Take a look at previous work. Each designer has particular strengths and leans towards a certain type of style that may or may not fit yours. For example, a company that specializes in websites for sports teams may not be the best fit for a woman's shoes e-commerce site. Or maybe a designer favors bold colors and curvy fonts whereas your vision is pastels and Times New Roman. To each their own!
You will rely on the designer to implement your vision for the brand. Make sure that you have similar design tastes and styles before putting your reputation and image in their hands. You don't want to have to argue and negotiate through the entire process to get what you want.
Do you use a template or design from scratch?
Often designers use pre-established templates as a basis for a new website. It can be really handy for sites that need to be built quickly. Though plenty of elements can be tweaked, the skeleton for the site remains the same. Other sites that require more complex functionality will require a site built from scratch.
Depending on whether you want a template or custom design, it will affect price range and turn-around time. Custom sites requires a solid plan and process before they can be implemented, which takes a bit longer, though the end result is well-worth the wait.
Will I get ownership of the site?
Although this question may seem strange, some designers will purchase your domain and hosting for you. That's fantastic, but you want to make sure they'll hand you the keys to the kingdom after the site is designed. If you can't enter your site to make changes or updates, you'll be stuck with that developer for any tweaks you want to make in the future, usually at an extra price.
Even though you may love your designer and don't mind paying a maintenance fee or retainer to keep your website updated, you never want to lock yourself into something. Make sure they hand ownership of the site to you after the development phase is over so you get to decide how to run it from there.
Ready to build your website? We've got answers to all your questions.