If you are a local business, getting your company name and location on Google Maps would be extremely beneficial for lead generation. Both residents and out-of-towners alike will find it easier, and you'll benefit from the extra foot traffic through the front door.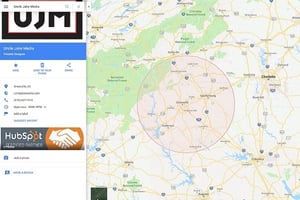 Figuring out how to list your business can be tricky, though. If you're an established business and have been around for a year or more, your company might actually be on Google Maps. In that case, all you have to do is claim it.
New businesses won't have had time to be placed on Google Maps, so you'll want to sign up as soon as possible. Here's the process:
Google Maps Step-by-Step
Create a Google My Business account. It's completely free and allows you to update information when needed and provides helpful tips and tricks for other valuable aspects of Google.
Google your business. Literally. Once you're signed into your account, you can run a Google search with the name of your business. If the name appears in your search, it's already been added to Google Maps. Now all you have to do is claim it.
Fill in missing information. If your company already shows up in the search results, make sure to fill in any information that may be missing. If your company isn't listed, then you would click "Add My Business" and fill out a form with all the information Google will need when listing your company. Pro tip: Pay special attention to the category section at the bottom of the form and make sure you are classified as accurately as possible.
Verify your location. Google wants to prove that your business is located where you say it is! They'll send you a postcard to the physical address with a pin number that you can use to verify your account. Keep a look-out for this vital mail, as it's not uncommon for these postcards to be tossed by recipients who don't expect it or realize its importance. Once it arrives, plug in the pin number to your account, and your company will be confirmed!
Contact us if you'd like to set up a website and optimize your visibility online.