All good marketing campaigns include reporting during and after the fact in order to gauge success and identify areas of opportunity. Your website is no different.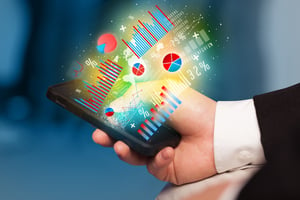 When we help our customers set up and maintain their personalized websites, we also strongly recommend setting up Google Analytics. With this add-on, you can easily access customizable, visual and thorough metrics on website visits, popular content, and how new users have found you. There is so much insight to be gained, and it's all in real time. Here just a few of the metrics that you can access:
Audience Data
This type of data provides a deeper understanding of the demographics of your web visitors. You can see gender and age breakdown, location by city or even country, the browsers they use, and whether they are coming from a mobile device or desktop. All of this information can help inform your future web content.
If you take a look at your Analytics report and see that most people visit your site via a mobile device, you'll want to make sure your content is mobile-friendly and easy to navigate on a small screen. These types of data points also give you a better idea of who your customers are to better serve their needs and/or market in areas that are most relevant to them.
Acquisition Data
The Acquisition overview page lets you know how visitors found you. Direct traffic means that a visitor plugged in the URL directly into their browser and knew exactly where to go. Referral traffic means that another website has linked to yours, and people followed those links from a different website. (Referral links on other websites are also fantastic for SEO!)
Organic search means that readers used a search engine with a keyword that you ranked very high for, so your business appeared up top in the search results. Social traffic means that they came from a social media post that directed them to your site.
Knowing where your visitors came from can help determine future actions. If you have low organic search, perhaps you want to look more closely at your SEO and try to build that up a bit. Or if you have high referral traffic, try to determine where it's coming from and where that traffic is going to optimize those pages.
Behavior Data
Google Analytics also provides key indicators as to visitors' behavior on your website. This section will tell you how many times a page was viewed, how many users came to your site, which pages were most popular, how long readers stayed on a page, and whether or not they continued browsing after they went to a page.
If this information shows that users are spending quite a bit of time on a page, congratulations! That means your content is compelling and attracting the attention of potential clients.
This type of data can provide clues as to which types of content and pages attract visitors. Let's say that you see the average exit rate is extremely high. That means that once a viewer sees a page, they leave the site completely and don't continue browsing. Perhaps adding internal links or a call to action on a popular page would decrease that exit rate, encouraging viewers to continue browsing or even provide their contact information for lead generation.
Automatic Reports
Now that you know what type of data you can access via Google Analytics, you should also know that you don't even have to enter into the page every month to see them! If you know what stats you want, you can set up automatic monthly reports that are generated and sent directly to your inbox in the format you choose. If you prefer a PDF with visual graphics, that's an option. If you like being able to manipulate the raw data and make your own graphs, then program the report in Excel.
All this data can help determine future activity on your website, and it is only an automated report away.
Contact us to learn more about Google Analytics and their customizable reports.