If you're shopping around for a web designer to build - or rebuild, as the case may be - your website, you probably have lots of questions for potential developers. During these conversations, you'll most likely hear about SEO. If you haven't heard of this mysterious acronym previously, your first question may be, "What is SEO?" (Read on to find out!)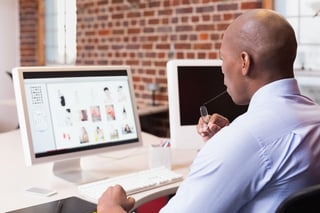 The second question might be, "Do I really need it?" The answer is a definitive yes! SEO can be crucial in directing traffic to your website, which you'll need if lead generation is important to you. Search Engine Optimization (SEO) may seem tricky at first, but it's not as difficult to incorporate into your site as it may originally seem.
What is SEO?
Implementing SEO on your site means that you are tweaking elements of said site in order to increase traffic. How? Well, search engines like Google or Bing – though let's be honest, it's all about Google these days – use an algorithm to classify and categorize websites based on any number of factors, such as keywords, page titles, URLs, images, etc.
By optimizing these elements on the site, you are helping the search engine's algorithm successfully categorize the page. For example, if you are an ice cream store in Boise, when someone searches "ice cream in Boise" or "Boise ice cream", or any number of similar combinations, your website would pop up among the first search results. If your website lands on the first page of search results, especially among the top 3, you'll increase your website traffic and get more business.
Hubspot has an excellent article on SEO in 2017 if you'd like to learn more about the mechanics and current state of search engine optimization.
Why You Need an Expert
If you're a local business, it may be a simpler matter to get categorized and show up on the first page of search results. After all, how many ice cream shops in Boise can there really be? However, if that shop didn't hire an expert and didn't bother using "Boise" or "Iowa" as a keyword in the back-end of their site, they might not show up during that crucial search, thus losing business to the competition who were smart enough to use an SEO expert.
Optimizing a business's website can get more complicated if it's not local. Companies in a popular industry, professional services, new business or freelancers can find it rather challenging to stand out from the crowd. In that case it's even more important to get a professional's advice on how to find a niche and start appearing in search results.
Expert designers who know the ins and outs of SEO can help you best optimize your site for customers, recommend keywords, provide advice on how to maintain good SEO, and ultimately maximize traffic.
If you'd like advice on how to make your website stand out, contact us today.