In a previous post, we talked about the necessity of SEO and hiring a designer to help optimize your website for search engines. That said, if you like to write web and blog content yourself, there are several SEO plug-ins you can use to make sure that new material is SEO-friendly.
Yoast SEO for WordPress
One of the best WordPress plug-ins for search engine optimization is called Yoast SEO. With over five million active installations in thirty-five different languages, this plug-in is extremely user-friendly for non-experts and is color-coded for visual aid.
If you add this plug-in to your blog, you can edit the page name, URL, and Meta description. That means if someone copies and pastes that URL into social media, you are the one who decides what content appears in the preview.
It also has two different tabs called "Readability" and "SEO" that let you know how your content rates (red, orange or green) for optimization. If either of these tabs falls into the red or orange zones, you'll be prompted with suggestions to tweak content. When the light in those tabs turn green as you make those changes, you can publish content with the confidence of its optimization.
Optimize on Hubspot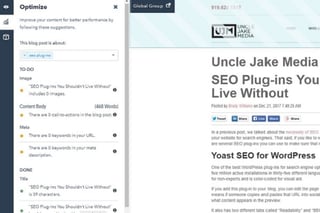 If you add content to your website via Hubspot, you'll want to use the Optimize button on the left-hand side of the page. The icon is easily-visible on the sidebar – a bar graph with an arrow pointing up for growth. Here you'll enter the main keyword for the post. That one keyword represents the major theme of that content.
For example, the keyword for this post is "SEO Plug-Ins". As you can see, keywords don't have to be just one word. Since this entire post centers on SEO plug-ins, the Optimize button on Hubspot made sure that I included that keyword in my title, paragraphs, images, and the URL and meta data within the post. Receiving reminders on places to add keywords is really helpful, especially when you're new to SEO. The Optimize button won't let you forget to optimize and lays all the groundwork for a well-built post, facilitating all the work.
Once your keyword is entered, the Optimize feature will let you know how well your content is formatted for SEO and will suggest tweaks to make it even better.
Like Yoast, these suggestions are color-coded to let you know in which areas you've done well (the green dots) and which ones need improvements (orange and red).
Both of these features are extremely helpful in keeping up the SEO on your site. There are plenty of other options as well, so be sure to ask your web developer which plug-ins they would recommend for you.