First impressions are crucial for your brand. When people visit your website, you just have a few seconds to get your message across, grab their attention and be remembered. With that in mind, every aspect of your logo and homepage should be geared towards catching viewers' interest. Color is a powerful attention-getter and can evoke corresponding psychological responses in a potential consumer. It can be a very emotive transmitter for a branding message, so we recommend putting plenty of thought into selecting brand colors for your website, logo and other marketing materials.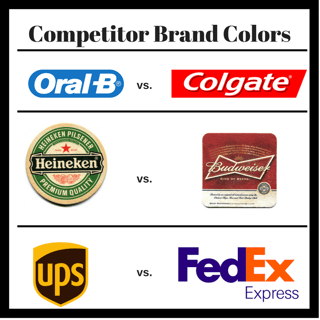 Hubspot defines color psychology as "an area of research that looks at how color influences our behavior and decision-making. When used in marketing, for example, different colors can impact the way buyers perceive a brand in ways that aren't always apparent."
That said, the study of color psychology in marketing can be a bit controversial. Some claim that certain colors evoke certain emotions but can't provide consistent results in their studies. Color can be a very personal experience, and the same color can evoke varying responses in different people. While color psychology is not a consistent or even reliable science, there are certain factors to keep in mind when choosing your brand's colors.
Brand Personality
Consider some of your favorite brands and the personality the colors invoke. For example, McDonald's uses bright primary colors of yellow and red, making their logo fun, bright and loud. Imagine what difference it would make if they had chosen pastel green and navy blue – those subtler colors wouldn't support the brand image and personality McDonald's hoped to convey.
When brainstorming your colors, jot down a couple core adjectives that you would want people to use when they describe your brand. Is your brand down-to-earth? Charming? Wholesome? Outdoorsy? Successful? Spirited? Trendy? To avoid a schizophrenic brand, you should only choose one or two. Next, ask yourself if the colors and images you've chosen correspond to those desired personality traits.
Differentiation and Recognition
Differentiation from the competition can also be a factor in choosing colors. It's easier for consumers to differentiate between brands when their colors are markedly different. Look at how the famous brands in the image above managed to differentiate themselves and craft a recognizable brand using color.
Once your color and logo are decided, document the brand guidelines. If later you use a different designer to create or print marketing materials, you'll keep your image consistent. Even the slightest hue change can compromise your brand. Consistency is key to developing recognition in your customers.
Target Consumer
Your product may be geared towards a specific age or gender. Studies show slight differences in color preferences according to age and gender, so it's another factor you can keep in mind when scheming your colors. (Pun intended.)
Although blue seems to be the most popular color for both genders, purple is a more popular color for females than it is for males. That's not to say that purple and pink are sure wins for a feminine brand. You don't want to slap hot pink on everything and call it a day. (You may remember the Bic Pens "For Her" fiasco a few years back.) Gender stereotypes should not be the main factor in choosing your brand's colors, especially since color preferences are determined by an array of other factors such as culture, background, age, and personal experience.
Age is also a factor. Faber Birren, author of Color Psychology and Color Therapy says, "with maturity comes a greater liking for hues of shorter wavelength (blue, green, purple) than for hues of longer wavelength (red, orange, and yellow)". Then again, that book was written 50 years ago, and times and preferences are constantly changing. So while these factors on age and gender preferences are fascinating, they should be taken with a grain of salt.
If you're still thinking about which colors to use on your brand's website and logo, contact us. We can help. And if you need further inspiration, take a look at our logo portfolio.